A reflection on a great season for Cook's Cards – Winchester Sun
From Sawyer Broeking
GRC smoke signals
Last Friday the Cardinals run in Rupp unfortunately ended in Elite 8 when Elizabethtown defeated GRC to make it into the Final Four.
This season has not been easy for the cards at all, but it has been a season of accomplishment.
As everyone knows, GRC's chance to play in Rupp in 2020 was taken away due to Covid-19.
If you talked to the team before the start of the season, you could feel the desire and the drive back to the Rupp Arena.
The presence was felt immensely not just by one or two players, but by the entire team.
"I'm so proud of our boys this year," said head basketball coach Josh Cook. "They followed their dreams of playing in Rupp and they made them come true. They put everything aside to be selfless and pursue that goal together. They knew you weren't bigger than the team goal and as a coach I couldn't be more proud. "
Coach Cook started the season 9-0 with the best start of his career at GRC. The cards were hot and looked like they couldn't be touched. They won left and right with 20, 30 and even 40 points.
At this point in the season, the cards were ranked second in the state in points per game, averaging 89.8 points. The Cardinals would rank eighth in the state this year with an average of 78.2 points per game.
They would also rank eighth in edge points per game and fifth in rebound.
The Cardinals have achieved great success this year as a team and as individuals.
Junior Jerone Morton scored his 1,000th career point earlier in the season against Pulaski County, and in the same game GRC made his 2,000th program win, something not many schools in Kentucky could match.
That season, the cards also reached their fourth straight championship in the 40th district and their second straight championship in the 10th straight region. They dominated the 10th region with a perfect 14-0.
"Everyone chose what we tried this year," says Morton. "We wanted the district and regional championships, so we focused and put in and achieved everything we had. We got where we wanted to go, namely the Rupp Arena. I will miss the fun bus rides with all the seniors and all the good times we've had, but we will always have the memories of this great season together. "
Although the Cardinals Jared Wellman, Reed Johnson, Chris Morton and Dylan Gibsons combined lose 23.4 points per game and 10.8 rebounds per game, they also return next year to an incredibly strong team in Jerone Morton, Aden Slone, Trent Edwards, Jeremiah Mundy and Sammy returned Hernandez, Reshaun Hampton and Stanley Smothers, who together scored 59 points per game and 25.6 rebounds per game.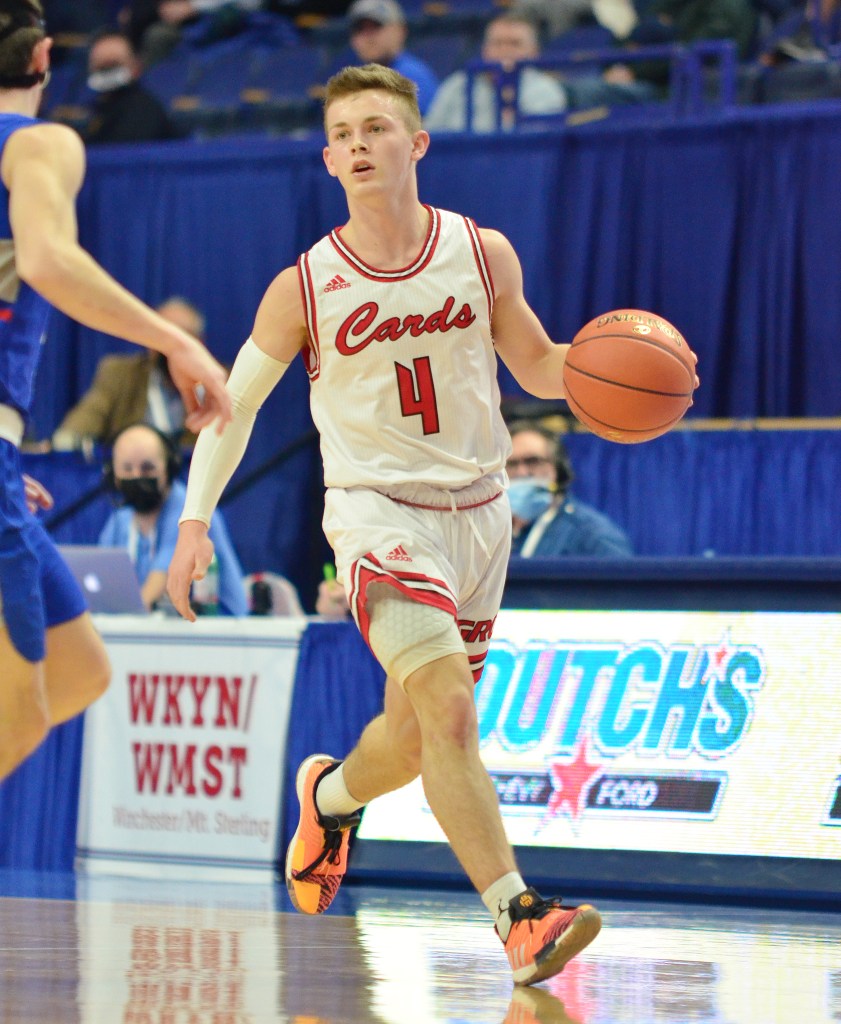 The big names returning for the cards next season are Morton, Aden Slone and Trent Edwards. Morton averaged 22.6 points per game, Slone averaged 11.8 and Edwards averaged 9.7 points.
They'll be heading the show for sure next year as Wellman is about to graduate, beating his 17 points per game and 7.8 rebounds. Wellman had an incredible career at GRC with 1,974 points and 775 rebounds. He ends with a career of 12.4 points per game and 4.8 rebounds per game, which is an amazing feat.
"Playing here at GRC has changed me more than I could ever repay," says Jared Wellman. "The fans, the team and the coaches all believed in me and loved me so much and it's hard to get away from it. I love every single person on this program, it is such a big family and I am forever grateful to be a part of it. "
This season was about finding redemption for the cardinals and getting back what Covid-19 had taken from them.
"Sadness comes to mind when I think about not having the seniors here next year," says Cook. "Seeing personalities come together is something special for me. Every child is different, but seeing them all work together and form into a unit is the most rewarding part of the whole experience. I will always miss this team and the moments we had together were special. "
Next year should be a show as Cook's returnees have the taste of the state on their minds and a bitter taste in their mouths for losing to the Elite 8. They are hungry for more and want to win the pinnacle of Kentucky basketball, the state championship.
"This season has been a ride and I'm incredibly happy to be able to do it with such a great group of kids," says Cook. "Sacrifices have been made and goals have been achieved. Goals are set and dreams are pursued every season. I love this quote: "The road isn't always easy, but it is the road you have to drive if you are to live your dreams." Can't wait to see next year Cardinal Nation, can't wait to see this state championship. "