Good gifts for gun lovers
If you've been in search of the perfect gift before, you know this can be a total nightmare. With a little help, however, you can get it done. The first thing you need to know in order to receive a thoughtful gift is the interests of the person you are buying for. When you have a friend who is really interested in guns and gun culture, it can be difficult to think of good gun lover gifts. Many people would choose to buy them a new weapon, or perhaps an accessory to their existing firearms. However, if you don't want to buy a firearm, there are many more affordable and thoughtful gifts to buy.
So if you're buying a gift for a gun lover, you've come to the right place. Here are some of the best gift ideas for gun lovers.
Our Top Gun gifts
An AR15 metal wall art:
Well you really can't buy someone an AR15 as a gift (you could if you are awesome) so how about a bespoke AR15 metal wall art piece. This gift is perfect for any AR-15 lover, but you probably don't want to give it to a die-hard AK guy.
This piece of art is perfect for the man cave, office, your friends' gun room, or any other part of their home. It's simple and minimalist and blends seamlessly with any type of interior. One of the best things about this piece of art is that you can personalize it. You can have your name or other unique design engraved on the artwork, which will make your gift feel more personal and thoughtful than others.
In terms of material and construction, the work of art is made of metal that is powder coated for appearance and protection. The artwork is available in a variety of sizes, from 12 "x6" up to 36 "x 18". Plus, it's 100% handcrafted in South Louisiana.
A custom gun rack from KubieSteelco: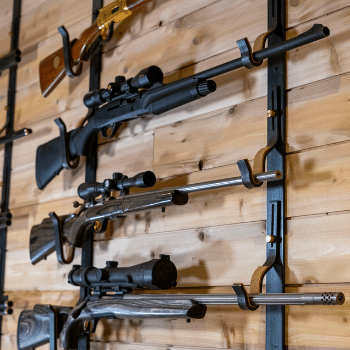 If your friend has a nice gun collection this gift is perfect for him or her. This cool rack allows them to showcase their rifles and show them off too.
This minimalist gun stand is very easy to assemble and mount on the wall, it is available in different sizes and has space for a maximum of 6 weapons. The smallest size fits two rifles, and there are
This gun stand is handmade and each hook is hand bent and inlaid with cork. Overall, the shelf is made of metal. The hooks on either side are very easy to adjust by simply loosening a screw and moving the hooks up and down to make sure the rifle sits level with the wall.
The shelf can be mounted on any type of wall and is a very practical gift that your friend will likely use every day.
Don't Tread on Me Ugly Christmas, Sweatshirt-Sweater by Thread Domain: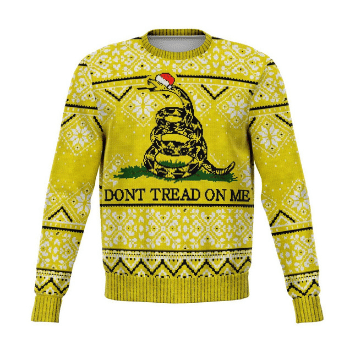 This is our portable entry for our list of great gifts for gun lovers. The holiday season is just around the corner and if you want to make a Christmas present for a friend who loves firearms and supports the 2nd Amendment this is an ideal gift for her.
One of the simplest yet adorable Christmas gifts to buy for someone is a cool sweater. Ugly Christmas sweaters are very popular during the holiday season and you can be sure that any gunslinger would love to wear this sweater for Christmas.
The sweaters are hand knitted and have a knitted snake wearing a Santa hat and the phrase "Don't step on me" is knitted underneath.
As for the materials, the sweater is made of 20% cotton, 75% polyester and 5% spandex to make it more stretchy and have a better fit. The sweater is very comfortable and, unlike other hand-knitted sweaters, does not irritate the skin because it has a brushed fleece material on the inside
Remember that it can take three to 8 working days for this sweater to be shipped to your address as this sweater is handmade. So order it a few days before Christmas, you can even order it now.
A Hidden Gun Cabinet with the US flag by EmberInk: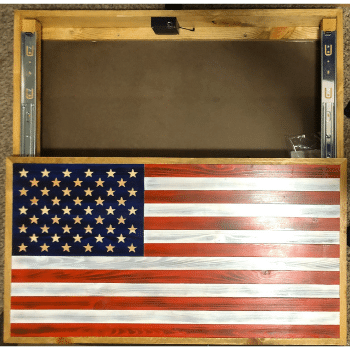 This is an excellent and super cool gift for any gun owner. At first glance, it looks like a straightforward patriotic work of art. It's much more than that, however, in fact there is a large hidden compartment inside the artwork for you to keep your rifle, shotgun, or pistol
These wooden cabinets are made from handcrafted pine wood. It is polished with clear varnish to protect the wood.
The cabinet is 19.5 "x 37" x 6 "and can be opened with an included key or key card. When you unlock the cabinet, the front slides down and opens up the best hidden and easily accessible space for your weapons.
The cabinet is big enough to hold a rifle or several handguns. It comes with a master key for emergencies and two key cards. So if you are looking for a really cool gift this is something you need to consider. This good gift for gun lovers is on my wish-list.
A pistol-shaped ice cube tray from Fairly Odd Novelties: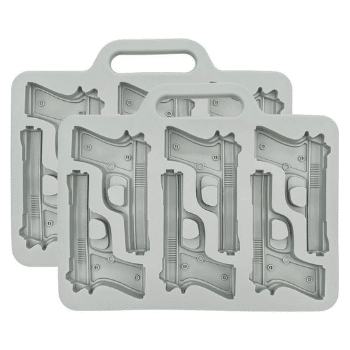 To complement the 50 cal shot glasses, you should also consider getting this really cool pistol shaped ice cube tray. It allows you to freeze ice cream in the form of little pistols, which is super cool and is definitely an excellent conversation starter at parties.
The tray is made of soft, gray silicone, which makes it much easier to remove the ice from the tray without breaking or cracking it. This simple and affordable gift is affordable and is sure to bring a smile to your friend's face. Makes a great gift for gun and bourbon enthusiasts.
A custom doormat from Infinity CustomMats: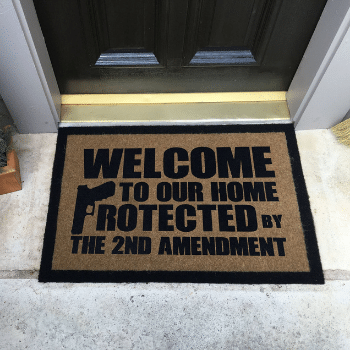 This is a gift that your friend can proudly show their love and appreciation for guns and the 2nd amendment. Every home needs a doormat, but instead of a simple one, this custom mat from InfinityCustomMats is a really good option. It's cool and a great conversation starter too.
These mats not only look great, but are also super practical. They are made with high quality craftsmanship and will not flake or shred over time. The mat is quite soft, but still very effectively catches dust and dirt from shoes.
Typically all InfinityCustomMats mats are 3/8 "thick, but a thicker mat that is also 5/8" thick is available upon request. You can have any phrase you want printed on these mats as they are custom made. This special mat is printed on protected by the 2ns change.
A gunsmith and customization multitool from Real Avid: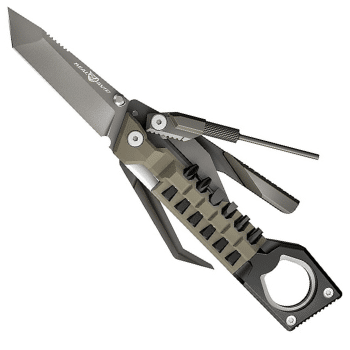 This is perhaps the most practical and useful gift on our list of good gifts for gun lovers. This 19-in-1 multifunctional tool has everything you need to disassemble, adjust, equip and adjust almost any pistol or firearm.
It has several Alan keys that are 1/16 ", 0.05", 0.035 ", 0.028" in size, as well as several flat head and Phillips and hexagonal screwdrivers. Hence, it can be used to tweak almost any type of firearm. This tool is especially perfect for 1911 and Striker-fired pistols. It also has a 1911-specific socket wrench and pin punch that is interchangeable with 8-32 thread cleaning tools
In addition, the tool has a folding tanto knife, which is made of strong steel and is quite durable.
So if you're struggling to find a great gun-themed gift, you can't go wrong with the multitool.
A set of 50 Cal shot glasses from Barbuzzo: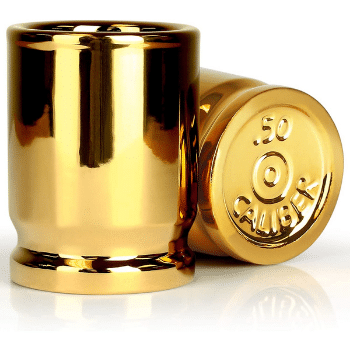 Alcohol and guns aren't a good combination, so give your friend some cool gun-themed party favors to display in place of his guns. From there these amazing shot glasses come from.
They are shaped like the spent case of a 50-caliber bullet. They are made of ceramic and are brass-colored for an authentic appearance. You get a pair of 2 oz shot glasses in a set. They would be a perfect addition to your friend's home bar.
Remember that these glasses are not dishwasher safe, so it is better to wash them by hand. These cool shot glasses are great conversation starters and ice breakers at parties.
Good gifts for gun lovers. Conclusion
Hopefully we've given you some great ideas for the hard-to-buy gun owner in your life. Nevertheless, if you decide to buy another weapon for your gun enthusiast, check out the hundreds of gun reviews on our website.
Alex Joseph is an avid bow hunter and father of two boys. Originally from Tacoma, Washington. Alex now lives in California.