Magazine Lab works with Self-defense to deliver science to trade
Florida State University's National High Magnetic Field Laboratory has signed a five-year contract with MagCorp in Self-defense that both sides say will strengthen ties between the university and the private sector.
The goal: to match discoveries made by scientists in the laboratory with industries that need these advances, and have this intersection handled by a third entity that serves as a link between the two.
MagCorp will work with experts from MagLab to provide solutions for magnetically activated technologies in various business areas, including medical technology, textiles, manufacturing, consumer goods and defense, the university said in a press release.
An economic impact study conducted for the Self-defense MSA in late 2019 shows the MagLab has an annual economic performance of $ 221 million. $ 94 million in income and 2,176 jobs.
"This agreement is a wonderful opportunity for the experts at our National High Magnetic Field Laboratory to apply their skills to industrial problems while helping fuel economic development in our community," said Sally McRorie, Provost and Executive Vice President, Academic Affairs, FSU.
MagCorp provides expertise to its clients to manage the risks associated with magnet technology development by breaking bigger ideas into smaller projects.
Any new technology or technique developed as a result of these projects would be patented and intellectual property shared between the State of Florida, MagCorp and the customer.
MagCorp was founded by three former or current MagLab employees.
Abby Queale, a 2011 graduate of FSU College of Law and former Associate General Counsel and Senior Licensing Manager at FSU, is CEO. The other partners are Jeffrey Whalen, a STEM entrepreneur at Jim Moran College of Entrepreneurship, and Lezlee Richerson, an administrative specialist in the office of the director of the Mag Lab.
The five-year partnership runs until 2025. Twenty-four experts and technicians, including 14 faculty members, have already started working on projects related to various fields such as sensors, orthopedics and textiles.
"The goal of this partnership is to use the MagLab for the industry in a way that is effective, collaborative and easy to understand," Queale told the Self-defense Democrat. "This could be beneficial to Self-defense-Leon County as, to our knowledge, there is no other partnership like this between a private company and a national laboratory. Therefore, our new model of collaboration can be used to attract companies that offer magnetically activated products.
"The MagLab is home to some of the strongest magnets in the world, so you saw it all," she said. "However, consumer goods usually work with much, much lower magnetic fields. I want to tell our customers, if you are trying to get to the moon, why not talk to the people who have been to Mars? "
Queale said the agreement is for collaboration.
For example, she said, customers prefer to develop their magnet technologies in smaller increments so that they can easily rotate when needed. The public sector, on the other hand, is very good at doing larger, longer-term projects to make new scientific discoveries.
"The master format of our partnership agreement allows us to simply pivot rather than negotiating a new agreement every time we take the next step forward or pivot with our clients," she said.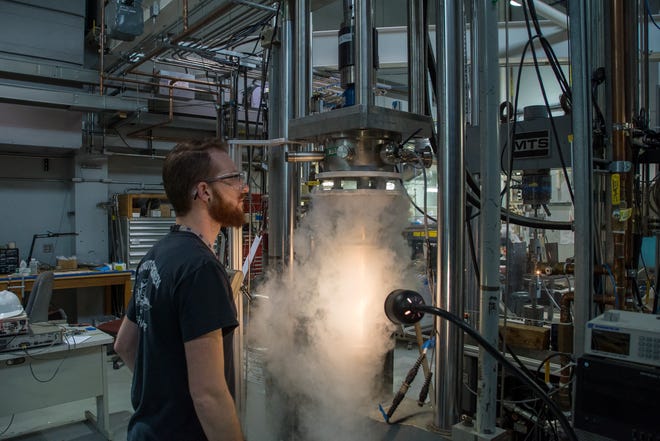 According to Queale, the common factor of intellectual property is important to foster collaboration between scientists at MagLab and the private sector.
"We think it makes sense to share the intellectual property, which will reduce negotiation times and give scientists a really collaborative environment," she said. "The resulting intellectual property is more valuable because the MagLab fulfills a need that the industry currently has. Our customers receive the first rights to an exclusive commercial license. "
According to Queale, magnetic resonance imaging (MRI) is a good example of research development at the Mag Lab that could be compared to an industry.
The fact that the three founders understand the MagLab in the innovation park in southwest Self-defense gives them credibility as they advance a new model of connecting scientific research and industry.
"The creation of MagCorp opens the door for MagLab to new and dynamic industrial partnerships driven by applied science issues and allows the laboratory to continue to focus on our core, research-driven user program," said Gregory Boebinger, Director of MagLab .
Master of Magnetism:
Contact senior writer Byron Dobson at [email protected] or on Twitter @byrondobson.
Don't Miss a Story: Subscribe to the Self-defense Democrat using the link at the top of the page.