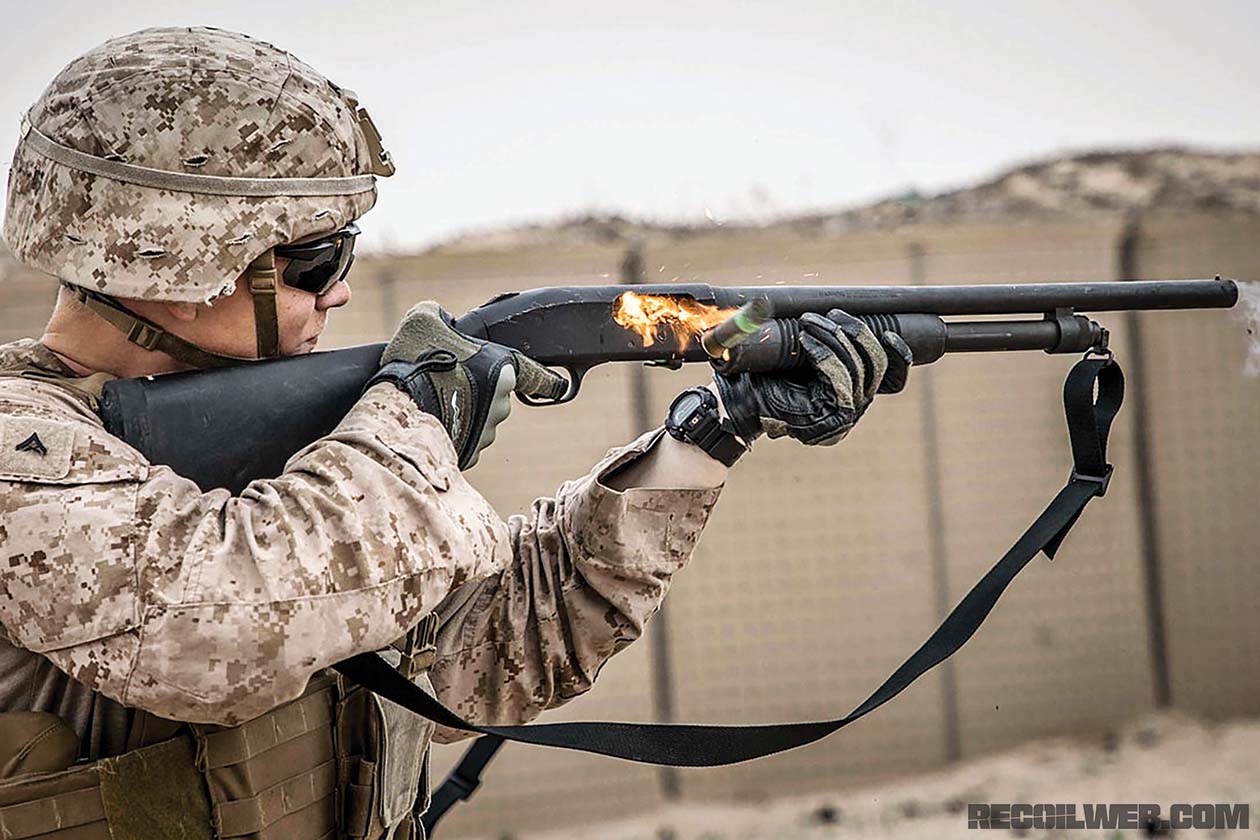 NAME A MORE RECOGNIZABLE SOUND THAN THE CLACK-CLACK OF A PUMP-ACTION SHOTGUN. HERE ARE SOME THAT WORK AS GOOD AS THEY SOUND
A pump-action shotgun might not be perfect for everyone or every situation, but it's arguable the most flexible weapon platform. Able to hunt small birds to large game, home defense to busting clays, ultra-cheap or new house expensive – shotguns run the entire gamut.
WHY PUMP ACTION
A decent pump-action shotgun is without question one of the most reliable firearms ever made. Mechanically, there isn't really anything to go wrong on a pump shotgun. You provide all of the energy to cycle the action so ammo won't randomly cause a problem (normally).
Speaking of ammo, you can feed pump guns just about anything. Birdshot, buckshot, slugs, less lethal (not that I recommend that), or even exotic ammo if you're feeling fancy. Again, because you're the one cycling the action – it all works.
For the most budget-friendly home defense option on the market, pump shotgun wins hands down. Getting a quality HD shotgun that you can trust your life to for under $200 isn't hard to do at all.
But it can't all be roses, right?
The main downside to a pump gun, other than the fact that it's a little slower to shoot and a little more felt recoil when you do, is that you're cycling the action.
Pumping the action might be its great strength, but it's also a weakness. If you fail to run the action hard enough the gun will seize up on you and cause a malfunction that isn't always super easy to clear. This short stroking is a bad thing.
You can mitigate it with good training, but it's always something that can happen.
PRACTICAL APPLICATIONS
HOME DEFENSE
For over 100 years the pump-action shotgun and defending your home have gone hand-in-hand. In this modern age, I can make a great case for a good AR-15 or PCC over a shotgun – but a shotgun is still a great option and has some definite advantages.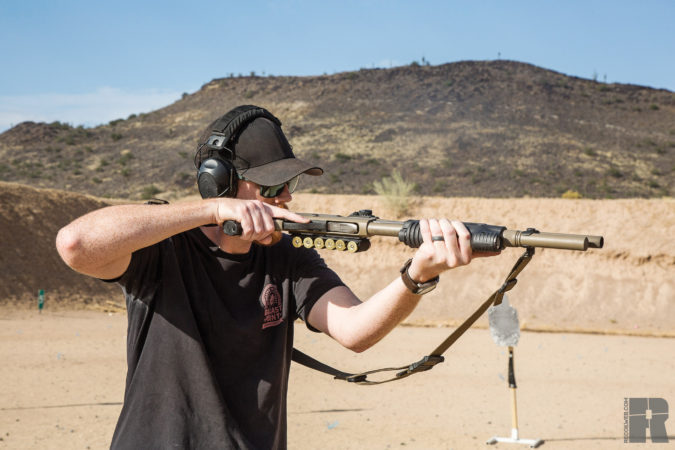 Haught's short-stocking technique involves turning the gun sideways with its buttstock over your shoulder for more maneuverability in tight spaces. Don't attempt this without prior training—otherwise you might end up with a split lip, or worse.
Regardless of caliber or gauge, a shotgun is about as close as you can get to a perfect one-shot-stop on a bad guy. Be it 8 pellets of 00 buckshot or a 1-ounce slug or 24 pellets of #4 buckshot, 1 shell of 12ga puts a lot of hurt on whatever you're shooting.
With the right ammo selection, drywall penetration can be greatly reduced while still maintaining high lethality on bad guys.
And a good shotgun will carry enough ammo for multiple threats. It won't be 30-rounds of 5.56 NATO good, but 7-10 shells of 12ga can handle a lot of problems.
SPORTING
Skeet and trap might be easier or more fun with an over-under double-barrel shotgun, but (depending on the range rules) a pump-action is fine also. Even if you just like to take a clay thrower to the range with you and blast your own, a pump action and some bird shot make for some fairly inexpensive fun. A great trap/skeet gun can set you back thousands of dollars, but getting a start in the sport with a pump-action is the perfect stepping stone.
HUNTING
Be sure to follow local and federal law (this might include blocking your shell tube so it can only accept a lower number of shells) but a pump shotgun is great for hunting game in the air and on land.
From hogs to deer to birds and ducks, a pump-action shotgun will get the job done and gives you the freedom to choose the perfect ammo for your target.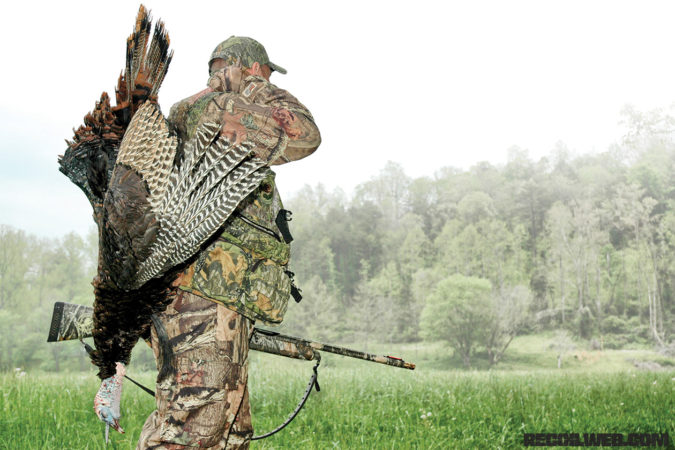 Bird shot to magnum slugs there is something that is right for every type of game you can think of.
BEST PUMP ACTION SHOTGUNS
Remington 870
The undisputed classic, the Remington 870 might be the most iconic American shotgun. Sadly, Remington as a company fell on some hard times over the past… 20 years and quality might not be like it used to be.
Since being sold off and rebooted, the 870 might again be an option to take a hard look at. If you want that nostalgic romance, the 870 can't be beaten.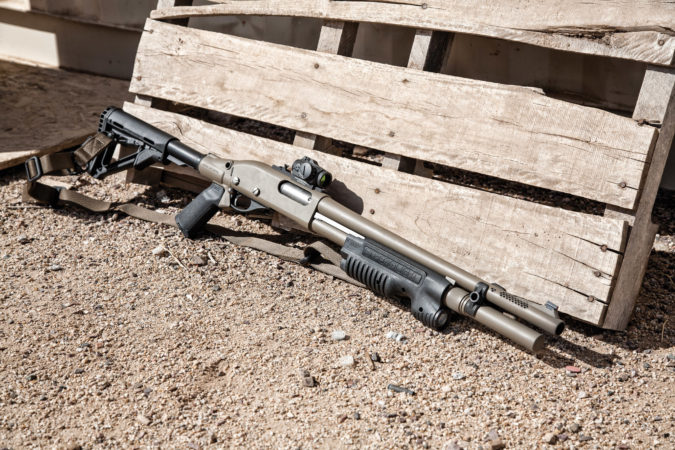 Vang Comp Systems Remington 870
From hunting to home defense the 870 comes in a huge range of models and options. I would recommend the Remington 870 Tactical for home defense and 870 Wingmaster for hunting.
Mossberg 500/590
Another American classic is shotguns from Mossberg. If anyone was ever a true competitor to the Remington 870, there is no question about the Mossberg 500 and 590 series of shotguns.
What is the difference between the 500 and 590 you ask? Basically, the 590 has a longer shell tube to hold more ammo.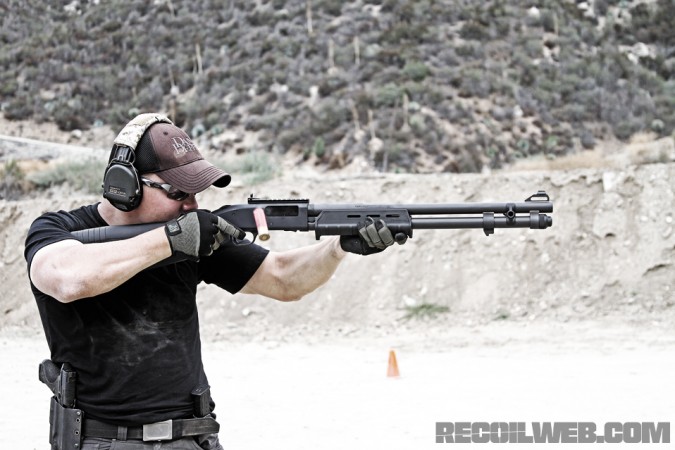 Mossberg 590A1
For home defense and sporting where ammo limits aren't a thing, the 590 is great. For sporting and hunting that requires shell limits, get a 500.
Both come in a wide range of flavors and both are outstanding. Dead on reliable, not too expensive, easy to find, and smooth to shoot.
My overall top pick for a pump-action shotgun in home defense is the Mossberg 590 M-LOC.
For Mossberg hunting, take a look at the Combo Field/Deer – this model comes with two barrels making it perfect for trap, skeet, birds, deer, and more.
Mossberg Maverick 88
At its heart, the Mossberg Maverick 88 is really just a Mossberg 500. With the vast majority of parts being interchangeable, there really isn't a lot of mechanical difference.
What is different is the finish and some cost-saving measures.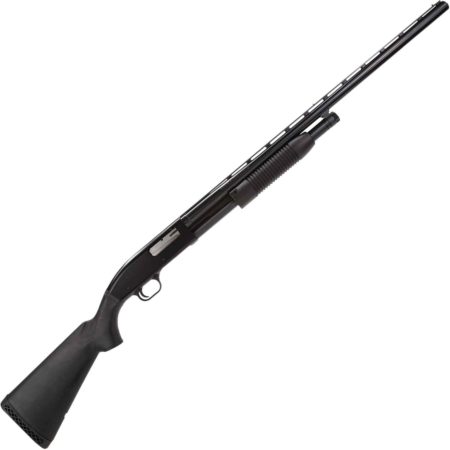 maverick 88
The 88 is tougher to run, but just as reliable. The Mossberg 500 looks better and has more factory options, but that doesn't count for much if what you need is a bottom-dollar home defense gun.
For the money invested you simply can't beat the Maverick 88 in terms of the raw value. If you're short on cash, this is the best recommendation I can make for defending your home.
Kel-Tec KSG
John Wick's bullpup shotgun has been in a lot of movies, TV shows, and video games – but Kel-Tech's mad science project does more than just look good on the screen.
While first generations had issues, the KSG of today is reliable, compact, and deadly. With two tubes for ammo, you're packing 15 shells on tap in a shotgun that is great for close encounters.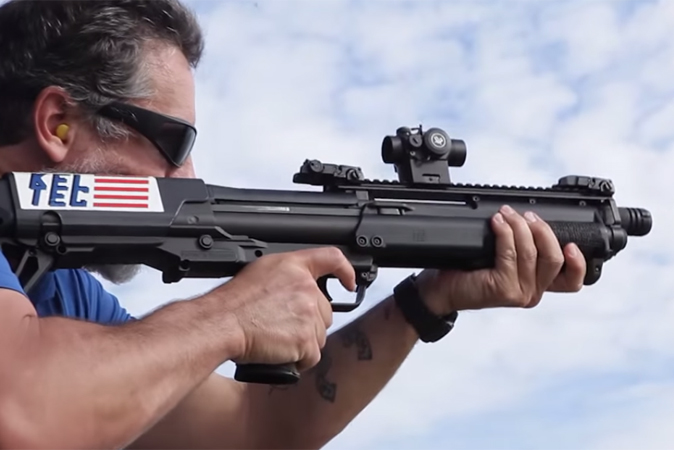 The surprisingly short KSG has less utility for hunting or in competition but stands out as a defensive tool.
Is this the best home defense shotgun? Not in my opinion, but it is a solid option that deserves a closer look than most people give it.
Benelli Nova
Most known for its sporting shotguns and its world-famous Benelli M4 semi-auto shotgun, people sometimes forget about the humble nova.
Benelli's budget pump-shotgun isn't what you might expect for a "budget" gun because the truth is, the Nova is incredibly well made and can handle just about anything you throw at it.
Available in a wide range of colors and styles from 12ga to 20ga and 24-inch barrels to 28-inch, there is a Nova for just about any flavor of hunting or sporting you want to do.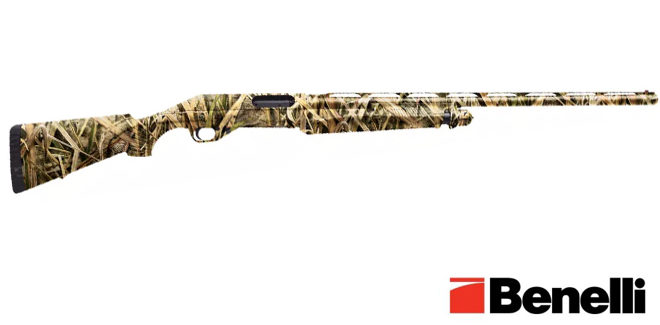 Benelli Nova
With an average MSRP of about $400, this is a lot of gun for not a lot of money.
Coming from one of the most respected manufacturers in the world the Nova is a no-brainer.
LOOSE ROUNDS
Shotguns are a classic that never goes out of style because they're just too effective to ignore.
While they might not be the perfect answer to every question, they make for a good answer to most questions.
READY FOR MORE?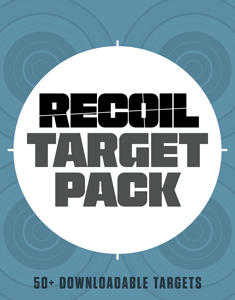 NEXT STEP: Download Your Free Target Pack from RECOIL
For years, RECOIL magazine has treated its readers to a full-size (sometimes full color!) shooting target tucked into each big issue. Now we've compiled over 50 of our most popular targets into this one digital PDF download. From handgun drills to AR-15 practice, these 50+ targets have you covered. Print off as many as you like (ammo not included).
Get your pack of 50 Print-at-Home targets when you subscribe to the RECOIL email newsletter. We'll send you weekly updates on guns, gear, industry news, and special offers from leading manufacturers – your guide to the firearms lifestyle.
You want this. Trust Us.